Certificate of Apprecation from SMM IHRC in Italy/ 380*NVC/2020..
List of Honors > COVID-19 > European Union
This is in appreciation for YOUR devotion and sacrifice towards the fight against
COVID-19
,
and for your help in protecting the less privileged from the pandemic's effects.

IHRC Autorized person to Certyfity
---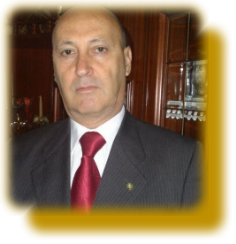 Cav.Dr.H.C. Pietro Sicurello
Regional Volunteers
Coordinator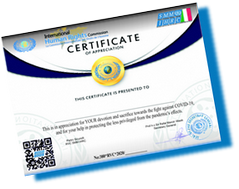 Certyficates in 2020
Code No. 380*NVC*2020/....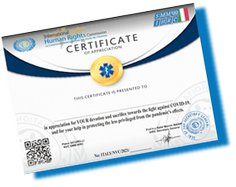 Certyficates in 2021
Code No: ITALY/NVC/2021/....
---
List of distinguished for towards the fight against CONVID-19 pandemic -
2020
| | | |
| --- | --- | --- |
| Number | Name | Functions |
| 380*RVC*2020/001 | OSJ CAVALIERI OSPITALIERI DEL GRAN PRIORATO RUSSO DI MALTA - PRIORATO DI SICILIA | |
| 380*RVC*2020/002 | PRINCESS NORIMA- MESSENGER | |
| 380*RVC*2020/003 | Dr. SALVATORE VALERIO FRANGIAMORE | |
| 380*RVC*2020/004 | DOTT.ssa ANTONELLAGALLO CARRABBA | |
| 380*RVC*2020/005 | Dr. GIANCARLO SALVATORE TOBIA FORESTA | |
| 380*RVC*2020/006 | DOTT.ssa RITA MARIA D'IPPOLITO | |
| 380*RVC*2020/007 | | |
| 380*RVC*2020/008 | | |
| 380*RVC*2020/009 | CENTRO ANTIVIOLENZA E ANTISTALKING TELEFONO AIUTO | |
| 380*RVC*2020/010 | | |
| 380*RVC*2020/011 | | |
| 380*RVC*2020/012 | | |
| 380*RVC*2020/013 | | |
| 380*RVC*2020/014 | Dr. LUIGI CORSARO - PRESIDENTE C.R.I. SICILIA | |
| 380*RVC*2020/015 | | |
| 380*RVC*2020/016 | CAV. UFF. DOTT. PAOLINO SCIBETTA | |
| 380*RVC*2020/017 | DOTT. GIUSEPPE SEBASTIANO CATANIA | |
| 380*RVC*2020/018 | ARCIPRETE DON CARMELO LO BUE | PRESIDENTE CARITAS A. PETIX |
| 380*RVC*2020/019 | PERSONALE REPARTO RIANIMAZIONE PRESIDIO OSPEDALIERO CALTANISSETTA | |
| 380*RVC*2020/020 | PERSONALE REPARTO MALATTIE INFETTIVE PRESIDIO OSPEDALIERO CALTANISSETTA | |
| 380*RVC*2020/021 | Dr. MASSIMILIANO SILVIO ALAIMO | |
| 380*RVC*2020/022 | | |
| 380*RVC*2020/023 | SEZIONE UNIMRI _M.O. QUESTORE GIOVANNI PALATUCCI - MONTELLA | |
| 380*RVC*2020/024 | COMANDO POLIZIA MUNICIPALE COMUNEDI RAFFADALI | |
| 380*RVC*2020/025 | SEZIONE UNIMRI _TEN. COL. PILOTADOMENICO SENATORE - BARLETTA | |
| 380*RVC*2020/026 | ASSOCIAZIONE VOLONTARI DI STRADA AGRIGENTO | |
| 380*RVC*2020/027 | COMM. DR. GAETANO DIPIETRO | |
| 380*RVC*2020/028 | CAV. DR. RICCARDO SAPONARA | |
| 380*RVC*2020/029 | CAV. DR. FRANCESCO PAOLO MAFFEI | |
| 380*RVC*2020/030 | | |
| 380*RVC*2020/031 | | |
| 380*RVC*2020/032 | DOTT. SALVATORE CARDINALE | |
| 380*RVC*2020/033 | ABG. DOTT.SSA IVANA SICURELLI | |
| 380*RVC*2020/034 | | |
| 380*RVC*2020/035 | OSSERVATORIO NAZIONALE DIRITTO DI FAMIGLIA - AGRIGENTO | |
| 380*RVC*2020/036 | | |
| 380*RVC*2020/037 | STAZIONE CARABINIERI PORTO EMPEDOCLE | |
| 380*RVC*2020/038 | COMANDO POLIZIA MUNICIPALE DEL COMUNE DI PORTO EMPEDOCLE | |
| 380*RVC*2020/039 | | |
| 380*RVC*2020/040 | DOTT.SSA CHIARA SCIARABBA | |
| 380*RVC*2020/041 | DOTT. FERDINANDO CAVALLARO | |
| 380*RVC*2020/042 | COMPONENTI COMMMMISSARIATO P.S. PORTO EMPEDOCLE | |
| 380*RVC*2020/043 | | |
| 380*RVC*2020/044 | COMPONENTI COMANDO TENENZA G.di F. - PORTO EMPEDOCLE | |
| 380*RVC*2020/045 | | |
| 380*RVC*2020/046 | C.F. (CP) DANIELE GOVERNALE | |
| 380*RVC*2020/047 | MILITARI GUARDIA COSTIERA CAPITANERIA DI PORTO DI PORTO EMPEDOCLE | |
| | | |
| | | |
| | | |