One Day Sensitization Worshop
Workshops and Training > Africa > Nigeria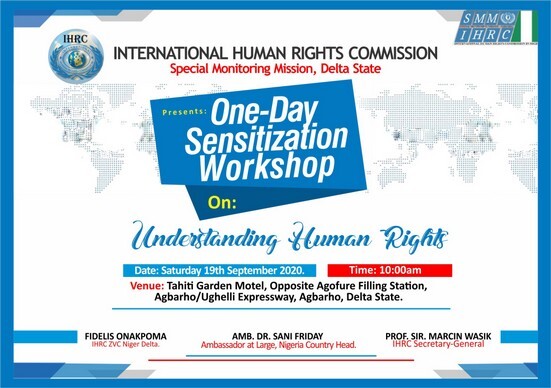 SMM IHRC NIGER DELTA ZONE HOLD OUR FIRST SENSITIZATION WORKSHOP 19.09.2020
The Special Monitoring Mission of International Human Rights Commission in the Niger Delta Zone has initiated a sensitization workshop on Understanding Human Rights to be organized across Delta State.
In a statement issued by the Coordinator, Fidelis Onakpoma said that the sensitization workshop is in-line with the vision of the Commission dedicated to protecting the human rights of people around the world and promoting the culture of peace among the nations.
While emphasizing the workshop, Fidelis said that Human rights are the basic rights and freedoms to which all humans are entitled. How we define and defend the rights of all humans is based on treaties and customary law that nearly every nation on the planet has adopted. In this workshop, we will look at the evolution of human rights law and treaties that outline the minimum legal standard of treatment that must be afforded to everyone.
We will take a look at what it means when we say human rights. We will discuss the foundations of human rights law. And we will review the moral obligations each of us has to protect human rights.
Throughout the sensitization, we will refer to specific international treaties related to the protection of human rights worldwide. Every country in the world has adopted at least some of these treaties. These treaties, along with customary law emerging from the Universal Declaration of Human Rights on December 10th, 1948, form the basis for how we define and defend the rights of all human beings".
The workshop is aimed to train youths on human rights respective stakeholders in curtailing human rights violations in the State.
Modules of the training are:
Legal and Moral Obligations to Protect Human Rights: Introduction, Background, Universal Declaration of Human Rights.

Protecting Human Rights to Benefit All: Introduction, Background, Mechanism of Safeguarding Fundamental Rights of Citizens, Limitations to Fundamental Human Rights.

Ensuring Human Rights for All
Date: Saturday 19th September 2020.
Venue: Tahiti Garden Motel, opp Agofure filling station Agbarho- Ughelli Expressway, Agbarho.
Time:10:00am
To participate in the workshop and earn a certificate, reply with your name, gender, and phone number to 08062807711.

Signed:
Comr Gift Okoro Okeregha
Secretary IHRC Delta State.