International Human Rights Commission
What we do 2020 > Africa Region > COVID-19 Ghana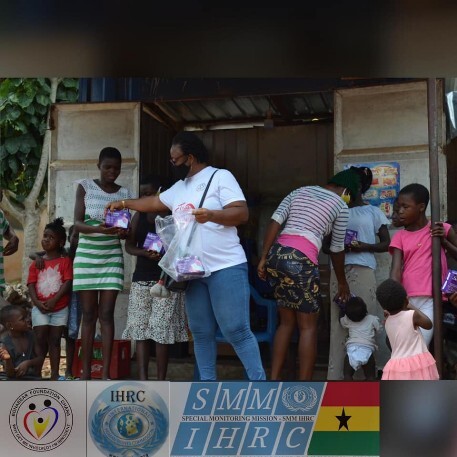 ITS TIME FOR ACTION"
#"MENSTRUATE 2 PROCREATE"
THE BONABEAR FOUNDATION GHANA IN COLLABORATION WITH THE EDINAM AGBODRA EDUCATION FOUNDATION UNDER THE AUSPICES OF THE INTERNATIONAL HUMAN RIGHTS COMMISSION - GHANA AS PART OF ITS EFFORT TO COMMEMORATE WORLD MENSTRUAL HYGIENE DAY 2020, ENBARKED ON A MISSION TO "DEDEIMAN"A SUBURB OF GA SOUTH MUNICIPALITY TO EDUCATE , SENSITISE AND SHARE SANITARY PADS AND SOME NOSE MASKS TO RESIDENTS OF THAT COMMUNITY.
THE MOVE WAS TO EDUCATE FEMALE ADOLESCENTS ON GOOD MENSTRUAL HYGIENE AMIST THESE ERA OF THE NOVEL COVID 19 AND ALSO EDUCATE THEM ON THE WHO AND GHANA HEALTH SERVICES KEY PROTOCOLS FOR STAYING SAFE.
THEY ALSO CALLED ON GOVERNMENT TO SUBSIDIZE THE PRICES OF SANITARY PADS TO MAKE IT MORE AFFORDABLE TO GIRLS LIVING IN SUCH DEPRIVED AREAS WHO ARE GOING THROUGH THEIR ADOLESCENT STAGE SINCE MOST OF THEM BECOME SEXUAL PREY'S TO SOME MEN IN PRETENSE OF ACQUIRING THE SANITARY PADS FOR THEM.
THE COMMUNITY WERE OVERJOYED SINCE ACCORDING TO THEM IT WAS THE FIRST TIME A PROGRAM OF THAT NATURE HAS REACHED TO THEM AND CALLED FOR SUBSEQUENT FOLLOW UPS.
[image:image-0]Author :
RVC SMM IHRC
Bernard Kofi Bonarparte