Puthiya Bagha
What we do 2020 > Asia Region > COVID-19 Bangladesh > NVC Rubait Hasan
Press note with SMM IHRC Bangladesh - SVC
With the IHRC Umbrella Fund affiliate and associate human rights and social development organization Independent Human Rights Society (IHRS) public welfare fund, food items have been distributed among the poorest, poorer, working people in the fight against the Corona virus disaster.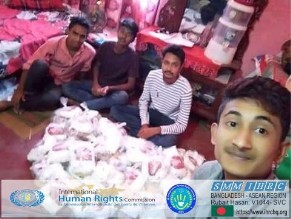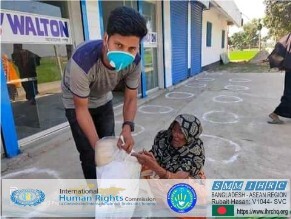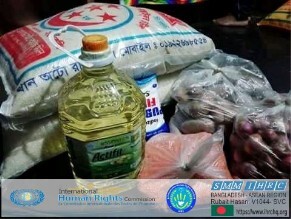 Zahid Hasan, IHRS central executive officer and IHRC volunteer (887), launched the public welfare activities on Friday, April 3 from 8am to 8pm.A relief distribution team of IHRC affiliated with Rubait Hasan participated in the distribution program.
Mr. Nilay, Aronno Ashiq, Rubel Talukder, Amanullah, Sanjida Islam, Mitu Moni, Zaheer Islam, Nazmul Hossain, Manik Mia, Razzak Hossain, among others were members of the team.
The trains were distributed in Puthiya Bagha upazila of Rajshahi, Manda,Mahadebpur upazila of Naogaon,Kushtia sadar and Meherpur upazila, and Dumara upazila of Nilphamari district.
5000 kg rice, 250 kg potato, 100liters of oil,4 box soap, 100 kg pulses, 100 kg salt, 100 onion have been distributed.This time of distribution, not all food items were given equal proportions.Products that the person has little or have received in the past or received assistance from elsewhere are given in low proportions and the bunks are a little overkill.
That is, this method has been distributed to ensure that whoever needs it most.
Besides, according to the directives of the health department, the relief goods are distributed among the helpless by standing at a distance of 3 feet during the day.In the evening, and at the first watch of the night to avoid public gatherings, the locals have been provided house-to-house supplies.
High schoolers are spending their happy days at home, storing food items.Poor working-class people are getting some government assistance but as the middle class cannot earn income, the government is not helping them.
Nor can people bend their hands to seek relief in the shame of pictures or publicity campaigns while receiving shame and relief.
So thinking of them, a mobile number has been given for them.
He assured the IHRC Bangladesh 2 Special national Coordinator and founder of the IHRC affiliate Human Rights and Social Development Organization IHRS that he would reach Tran at the residence of the support candidate if he contacted the mobile number from 9am to 2pm.
Rubait Hasan also posted a note from his Facebook ID.
During this disaster, the International Human Rights Commission (IHRC) and its affiliate and associate human rights and social welfare organization Independent Human Rights Society (IHRS) will work to ensure public awareness, provide relief and social distance.

SVC SMM IHRC Bangladesh