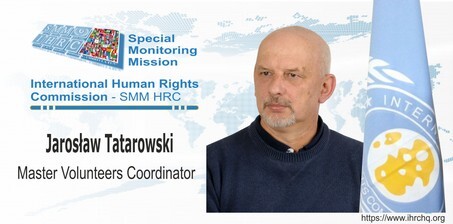 The
Special Monitoring Mission International Human Rights Commission (SMM IHRC)
was established by the
Secretary General Prof. h.c. Rafal Marcin WASIK
decision in 2018. The general principles of operation are based on their own experiences from cooperation with volunteering during the conflict in eastern Ukraine after 2012.
The construction of the structures, under the leadership of
Master Volunteers Coordinator (MVC SMM IHRC)
IHRC
Ambassador at Large J. TATAROWSKI
, began in middle of 2018. By the end of this year, the number of new registered active Volunteers has exceeded 5000. Today, our Great SMM IHRC Family includes thousands of people from almost all continents. Organized in strong teams, under the leadership of zonal, regional, national and international leaders, each day they make a priceless contribution to the fight for freedom, prosperity and human rights, human life and security at the local and international level.


---
IHRC
in cooperation with other organizations, has carried out humanitarian aid for over for hundreds of thousand people around the world. Through thousands of our registered and active associated in the IHRC Special Monitoring Mission Volunteers, we are active in all corners of the world, running humanitarian aid programs, raising awareness, protecting human rights, monitor local social and political situations.
SMM IHRC
Volunteer members, in the CoVID-19 virus pandemic time, risked their lives and health, under the leadership of local
SMM IHRC
agents, carried out hundreds of actions to provide food aid to the victims, the poor and the needy and conduct with them educational activities about the methods of protection against infection.
An important aspect of universal mobilization to fight the COVID pandemic, as well as recognition of the efforts made, are awarded by the IHRC "Certificate of Appreciation", already highly respected by awarded persons, organizations and institutions around the world. These certificates are numbered and a full awarded list can be found on the official IHRC website.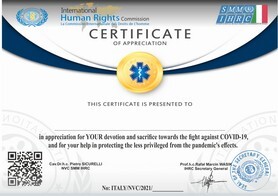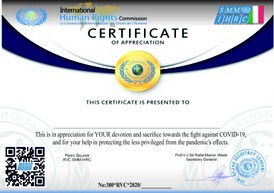 Due to the glo
bal COVID -19 pandemic, SMM IHRC is currently being expanded with its medical part. Each structure, each group will be replenished as quickly as possible with people with practical and solid medical knowledge. This will allow SMM IHRC to operate even more effectively on a much wider plane
We invite you to join our Great SMM IHRC Family. We guarantee the best company, the highest goals, great satisfaction and the possibility of self-realization, active influence on your own fate and on the fate of your community, and thanks to them the increase in joy, understanding of the world and recognition in the eyes of people close to you and important to you.
Each of you is indispensable to fight for the good of the world and human rights.
"Because what we do today, we do for Generations"
---

VOLUNTEER APPLICATION FORM ONLINE
Sending your application several times will automatically block your IP address and email.
You will not be registered!
Due to the great interest in SMM IHRC, we are extending the waiting time for accreditation and placing photos and information to
---

We regret, that the amount of work involved in adapting photos to a form that allows them to be placed on SMM IHRC volunteer documents, exceeds our capabilities. Therefore, from June 25 applications will be accepted with a passport photo attached, on a uniform background. Not selfi from the car, trips or a photo on the couch. We will only accept photos, that would be acceptable when you applying for an official document such as a passport, ID card or driving license. Applications with other images will be rejected without consideration and rejection information to the sender.

Nous avons le regret de vous annoncer que la quantité de travail demander pour adapter les photos au format adéquat pour constituer les documents des SMM IHRC, dépasse nos compétences. Par conséquent à partir du 25 juin, seules les demandes avec les photos format passeport avec un arrière-plan uniforme seront acceptées. plus de selfie dans les voitures, lors des voyages ou une photo dans le lit. Nous n'accepterons que les photos autorisées sur les documents officiels tel que le passeport, la carte nationale d'identité ou le permis de conduire. Tout formulaire comportant d'autres types d'images, sera purement et simplement rejeté sans justificatifs

हम खेद व्यक्त करते हैं, कि वालंटियर फ़ोटो को एक ऐसे रूप में डालने में शामिल होने की मात्रा जो उन्हें SMM IHRC स्वयंसेवी संस्था की वेबसाइट पर दस्तावेजों को रखने की अनुमति देती है, हमारी क्षमताओं से अधिक है। इसलिए, 25 जून 2020 से एक समान पृष्ठभूमि पर पासपोर्ट फोटो संलग्न के साथ आवेदन स्वीकार किए जाएंगे। कार वाली सेल्फी नहीं, यात्राएं या सोफे पर वाली तस्वीर नही स्वीकारे जाएंगे। हम केवल वही फोटो स्वीकार करेंगे, जो कि पासपोर्ट, आईडी कार्ड या ड्राइविंग लाइसेंस जैसे आधिकारिक दस्तावेज के लिए आवेदन करते समय स्वीकार्य होता है। वालंटियर के बिना विचार और अस्वीकृति की जानकारी के बिना अन्य तस्वीरों के साथ दिए गए आवेदन को अस्वीकार कर दिया जाएगा।
---
Online registration is free.
In selected countries, the cost of receiving a plastic IHRC Volunteer Card and a Notification is
100 euro + courier shipping ( DHL, UPS, FEDEX)
.
Selected Regions
receive ID cards and Notifications electronically.
Only Plastic cards are issued in the Republic of Lebanon.
For this purpose, please contact the IHRC Representation in that country:
beirut@ihrchq.org
Note: Correction of your data on your ID IHRC Volunteer due to incorrectly filling in the application costs 10 euros (shipment only to the IHRC bank account * CLICK HERE. Please fill in the questionnaire carefully.
---