18th April/2020
What we do 2020 > Asia Region > COVID-19 Bangladesh > Foods for Hunger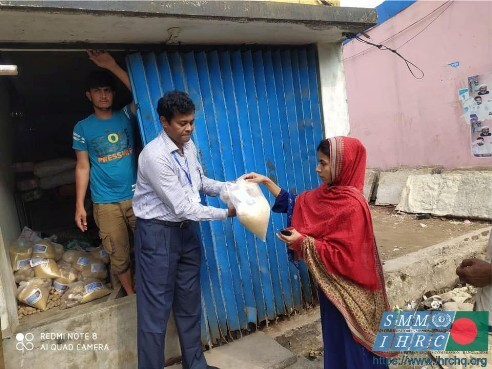 From office the Peace Ambassador in Bangladesh
SMM IHRC Bangladesh Region.
Foods for Hunger:
A hungry man is an Angry man! Hunger has no Humanity & Smile! Huge people are unemployed & hunger. Whole the World is lockdown. But Humanitarians do not sleeping! They trying to help others! Showing Admiration his Excellency honourable Secretary General of IHRC Mr Sir Rafal Marcin Wasik, Peace Ambassador of SMM IHRC Bangladesh Region Mohammed Elias Serazi Distributed Foods on Saturday 18th April/2020.
Mid level low income generate people suffering most.they do not request or asked to their friends or relatives for SHYNESS. Nor collect Governments relief.miserable conditions they expire.
Peace Ambassador Mohammed Elias Serazi applied a technique. That is GIFT of sir Rafal Marcin Wasik! GIFT can receive everybody & NO shyness!
Foods given 50 Mid levels families each family :-
Daily Labour 100 families Rice= 3 kgs
Mr Serazi observed every body receive foods & follows SMM IHRC with Bangladesh LOGO. they do not know SMM IHRC but they understood its FOREIGN Aids!
Volunteers of SMM IHRC here is succeed! Here is humanity spreed.
Distributed In Chittagong city corporation under Word No 24 area Shantibug 10 No road & Shamoli Road No 2 city pilot school lane,3 No road & 5 No road.
Foods distributed among 151 families.
Volunteer Mr Moboruk Hashen V-no 662,Volunteer Mr Engr, Abdullah Al Mashud V no 664& Volunteer Mr Sefatul Hoque V-no 920 cooperate this distributions programs.
Reported:

Mohammed Elias Serazi