Dr.Friday Sani
What we do 2020 > Africa Region > Nigeria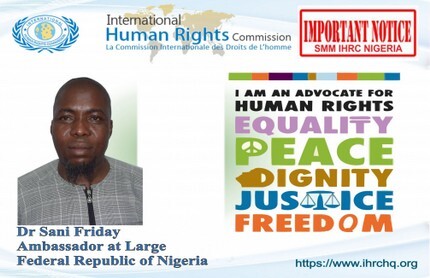 Activating all IHRC lawyers to save poor Nigeria and Nigerians
The Head of the office of International Human Rights Commission, Ambassador dr Friday Sani, has disclosed that the timely intervention of the office of IHRC by activating all IHRC lawyers to save poor Nigeria and Nigerians is yielding a serious result as the IHRC secured the release of several poor Nigerian people, who where unjustly arrested over the lockdown in Nigeria.
Recall that Nigeria came under lockdown as a result of the Corona virus outbreak. SMM IHRC office in proactively formed a Monitoring Team to ensure, that the enforcement is civil. Upon Nigeria SMM IHRC efforts to check the menase to is unfortunate, that over zealous security agencies has killed more the COVID-19.
Ambassador Sani futher disclose that Abuja, the Fedral Capital territory is without any incident and remain thankful to the commissioner of police, the Nigeria army, fct director DSS, commander of the Nigeria civil Defence agency and other security agencies.
Ambassador Sani futher stated that IHRC Uin Nigeria would continue to ensure that the rights of Nigeria and Nigerians are protected, so as bring about peaceful society of our dreams.
He however congratulated Prof. Sir Rafal Marcin Wasik, Secretary General of the IHRC, for giving a purposeful platform and leadership which today saving lives in Nigeria.
We also use this medium inform Nigerians not to hesitate to call on IHRC for free legal services for people, who are unjustly arrested in this lockdown.
Please call the Head of Nigeria central office of International Human Rights Commission on 08163710438

Dr Sani Friday
Ambassador at Large
MNVC SMM IHRC -
WEST AFRICA REGION