Charity campaignin hospital
What we do 2021 > Europe > Poland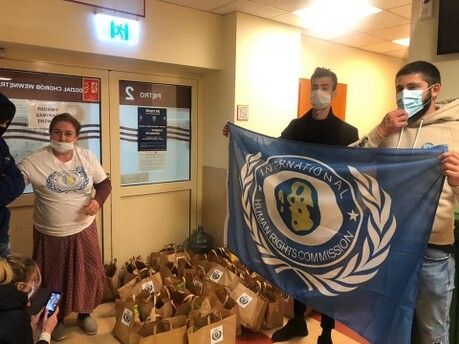 IHRC Poland volunteers organized a charity campaign in the internal medicine department of the Warsaw hospital
Since the onset of the CoVID-19 pandemic, the situation has been and continues to be very difficult for people around the world, many people have lost their jobs, and it has been getting worse by the day. Many of them have lost their jobs, millions have fallen ill and too many have gone forever. Many people died or found themselves in a difficult health situation without being ill with COVID, and because of COVID they had a difficult ability to fight their diseases.
The first line of the fight for our life and health is health care. Paramedics, nurses, doctors and other medical services. To support both medics and patients in these difficult times, on October 21, 2021, IHRC Poland volunteers organized a charity campaign in the internal medicine department of the Warsaw hospital at ul. Kasprzaka 17 IHRC volunteers visited all 36 patients in this ward with wishes for a speedy recovery and a modest but sweet treat including fruit, sweets, juices and water.The volunteers also prepared snacks for doctors, nurses and other employees of the ward, for whom there were cakes, sweets, coffee and tea.
Patients and medical services welcomed this initiative of IHRC Poland volunteers, thanks to which they could for a moment forget about the hard everyday life, feel the warmth and support of the world in their fight for their own and other people's health.
We would like to thank the hospital authorities for making it possible for us to experience these beautiful moments with you.
The organizer of this charity action was the Regional Volunteer Coordinator in Poland LELI KAGERMANOWA and the volunteers of the organization

1) Natasha Deshieva
2) Khava Kagermanova
3) Ibragim Kagermanov
4) Khava Abdulkhadzhiev
5) Magomed Abdulkhadzhiev
6) Said Magomed Mezhidov
7) Olena Horb
8)Anastasia Rudetska
9) Nodir Tosziev
Leli Kagermanova